ACROSS LITE PUZZLE: [ IT'S ALL ABOUT ME]
PROGRAM: [Across Lite]
PROGRAM: [Java]
PRINTOUT PUZZLE: [ IT'S ALL ABOUT ME]
PROGRAM: [Adobe Acrobat]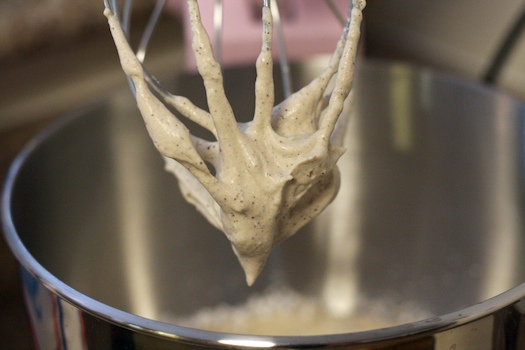 First, you have to whip it by hand. No beaters, and dear god, none of that out-of-a-can crap. I don't care how convenient it is or how cool it sounds when you empty the canister contents directly into your mouth - it's a no. A no-no. Taboo, tabu, verboten, etc.
Second, if at all possible, whip the cream in a copper bowl. Opinions vary on the importance of this step in the process, but I am firmly in the copper bowl camp. That particular element imparts, I believe, an ethereal, almost mystical quality to the cream. It sets nicer, it fairly glows in its pure white glory, and even picks up some very slight vanilla and lemon notes on the back end. Trust me, go with copper. I don't care if you're just making sundaes for the kids. Do you want your kids to grow up tasteless cretins? I thought not.
Third, use a large whisk. I repeat, large. They make these whisks now that look better suited to a dollhouse than a mature adult's kitchen. Avoid them at all costs, especially where cream whipping is concerned. They can not give you the volumizing action you need to produce perfect whipped cream. Whatever you produce with them - even if it looks acceptable - will taste thin and depressing and will make baby Jesus cry. Get a big fat whisk - one with a diameter of at least three inches at its fattest part. You've got to get air into that cream - a lot of it, and quickly. Only a fat fat whisk can do that for you.
Fourth, buy organic. I know, I was dubious at first too. Cream is cream, I said. But there is a complexity to the cream of happy, grass-fed cows that no super-farmed cow cream can match. Also, and I can't prove this, but I believe there is an added cohesion factor in organic cream. It's as if the cream wants to stand up for you, to behave, to come together in harmonious white clouds of deliciousness. Take your skeptical science cap off for one damned second and go with me here. Faith. You must have faith and love and genuine respect for the cream if you are going to end up with ideal whipped cream. Faith and a fat whisk. That is the cream-lover's motto.
Fifth - and this is where you can really put your personality into the product - there are two perfectly acceptable ways of whipping. Two stroke types. I have heard tales of new-fangled methods - the "Turkish Screw" and the "Carolingian" being the most notorious - but I have never seen them in practice, and prefer not to give any credence to the rumors of their superiority. For now, they are mere legends, and we must deal with reality. And so there are two and only two whipping methods.
One is the classic "Around the World" - holding the bowl (copper) at a slight tilt (75 degree angle to the counter), stir the whisk in such a way that you completely circumscribe the bottom of the bowl, over and over, very quickly, with slightly more emphasis on the upswing than on the downstroke. Your dogs will come running from wherever they are in the house, anticipating the bowl-licking that they believe lies in their future. Ignore the dogs and keep whisking. After 10-20 second of vigorous whisking, the cream will no longer be pooling at the lowest point in the bowl, but will appear to be clinging to sides, as if it has begun to set. This is a ruse on the cream's part to keep you from beating it any further. Do not fall for it. You are still a good 20 seconds away from the initial testing stage.
The other whipping method is the "St. Louis Shake" - so named by legendary riverboat cook Fosdale Rampington, who challenged Mark Twain to tell the difference between cream whipped the Rampington way, and that whipped in the classic full-circle manner. Twain couldn't tell the difference - and that man loved his whipped cream. So chefs all along the Mississippi began using the "Fosdale Method," but in 1912, a man named Ted "Slappy" Fosdale was famously tried, convicted, and hanged for a rash of dog murders, and so to protect the cream-whipping method from the taint of the Fosdale name, its name was quietly changed to the "St. Louis Shake." Its basic element is simple - rather than go around the bowl with your (fat) whisk, you move it back and forth at great speed right through the cream. This is a dangerous method if you are at all averse to splatter, as the cream will fairly dance in the bowl, and you are apt to lose a drop here or there to the cream's sheer exuberance. I'm a classic whipper, myself, though I have been known to mix things up and change methods mid-whip. I have not noticed any adverse effects on the resulting cream, and thus can recommend either method without reservation.
Back to the whipping - you will want to stop whipping at the point where you can make peaks out of the cream by simply pulling your whisk out. Contrary to popular opinion (and the advice of a certain fat-faced celebrity chef who shall remain nameless), these peaks should not, I repeat, not be stiff. Who wants stiff cream staring up angrily at them from their dessert plate? Stiffness leads to angularity, and angularity has no place in the world of cream. The peaks your cream makes should settle back onto themselves ever-so-slightly, creating a nice, smooth hill, rather than a jagged peak (or what we in the business call a "tor"). Some people suggest that you gently stir in a dash of powdered sugar at this point. These people are idiots who are not to be trusted anywhere near cream or anything else you cherish.
Finally, serve the cream with a large, metal spoon. Not a serving spoon - a serving spoon is clownishly large for this task and will only bring derision and opprobrium down upon your creamy creation. Not a wooden spoon - what are you, a hobbit? Have some dignity. A simple large metal spoon, as one might find in the flatware drawer of any marginally well appointed middle class home - that is what is called for. The cream is the star here - do not let the serving instrument upstage it.
Lay a good two large spoonfuls on whatever dessert you are topping. Anything less and your guests will think you ungenerous and possibly inverted, narcissistic, or phlegmatic.
At this point, as long as it's done out of view of the guests (in the back of the kitchen, or perhaps on the back deck) you may let the dogs have at the bowl and whisk, but do not leave them unattended, as they will be more than happy to turn your beloved cream whisk into a chew toy.
Good day.
Oh, and if you're looking for Brendan, he's over at my blog.
~Rex