ACROSS LITE PUZZLE: [ JUST MY TYPE]
PROGRAM: [Across Lite]
PROGRAM: [Java]
PRINTOUT PUZZLE: [ JUST MY TYPE]
PROGRAM: [Adobe Acrobat]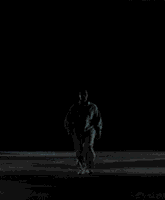 I think the weather is starting to mess with my head. Boston has had more rainy days this summer than Seattle. I joke with Liz that it must remind her of home. But at least in England it stops raining every now and again long enough for the sun to poke out, even if it's only 25 minutes. But's it's messing with me. Seriously, I'm afraid once I leave the condo, what happens to that guy in Bill Viola's "The Crossing" (animated gif above) is going to happen to me. ("The Crossing" is a diptych, FWIW. The fire side is equally insane, it's the same concept only a guy becomes immolated. Seriously, the gif above doesn't do this installation any justice. It takes close to ten minutes for this gif to happen. It's crazy stuff. So anyway, Bill Viola = awesome. One of my favorites.)
I think the weather is making me write nastier, meaner, harder puzzles. At least the primordial versions from what my test-solvers are telling me. Their solving times are up, way up. So hopefully I eased up enough on this one to make it a smoother solve. Let me have it in the comments section.
When I sat down to clue it, I was going to make the whole thing straight. But I realized I forgot to put FONT in the grid somewhere. So, I tried for the ?-cluing approach. Felt pretty good about all the long spanning entries. Might go back to the 78 word count approach with the themed grids. Not sure. Again let me hear it in the comments.
Oh, two last things. One, Patrick Blindauer showed up in my Twitter feed. Somebody posted a video of him demonstrating how to make a crossword and I thought I'd share it here. Two, it's worth mentioning the bass off-camera in Pat's demo is Francis Heaney, who I completely neglected to thank for his assistance on Puzzle #98. So: Francis, thanks!